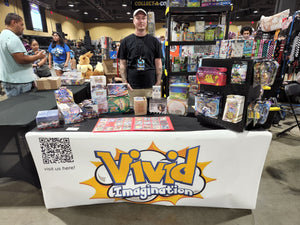 About us:
We are a small shop still ran out of our house, but this does not mean we do not have big dreams! Me and my wife started this business because we are tired of seeing the scalping of the TCG products we love. When I first got back into the hobby I was disgusted when I walked into a local card shop and saw 3X what MSRP was on an elite trainer box for Pokemon. After this experience the only thing I could think about is "how can anyone afford this hobby?". When I got home I told my wife we need to do something about this problem, so we did! Fast-forward a year later and here we are finally opening up an online store with the hopes of taking on these greedy scalpers and LCS's. Our promise is to bring the most competitive prices we can to this community, because WE the TCG community deserve a shop that cares about our wallets and our kids that will grow up and carry on the tradition of opening shiny cardboard.
Join our discord by clicking the link below!
Join the PokeVault here!
Live events we sponsor!
Come open cards with me on TWITCH every Thursday and Saturday at 9pm EST