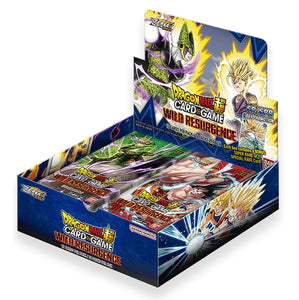 Bandai
Wild Resurgence booster box
Regular price
$89.99
$0.00
Unit price
per
CHARACTERS FROM VARIOUS AGES THEMED AROUND "WILD RESURGENCE"!
A lineup of warriors who have come back to life in the midst of battle!
In addition to classic characters such as Perfect Cell and Golden Frieza, Super Uub joins the fray as a leader to recreate his fusion with Majin Buu!

THREE SECRET RARES - INCLUDING CANON CHARACTERS!
Set 04 contains three Secret Rare cards, including some with familiar characters beloved by all Dragon Ball fans! Players will have their wish granted in Set 04!

A DBSCG FIRST - GOD RARE WITH A NEW STYLE ILLUSTRATION!
One of Dragon Balls most famous scenes is here as a God Rare featuring a new illustration style that will excite all fans of the original! You won't want to miss it!

[Rarity]
Common 60 (normal/holo ver.)
Uncommon 38 (normal/holo ver.)
Rare 30 (normal/holo ver.)
Super Rare 18
Special Rare 15
Secret Rare 3
*292 types total
---