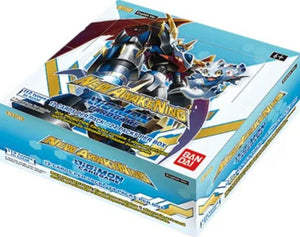 Bandai
New Awakening booster box
Regular price
$74.99
$0.00
Unit price
per
Digimon Adventure 02 Anime Theme
Long awaited characters from the Digimon Adventure 02 anime (2000), are now here! Cards from this set work perfect together with two Starter Decks released at the same time (
Ultimate Ancient Dragon
 and Parallel World Tactician
)!
Multicolor Cards Debut
This set contains the debut of multicolor cards, a core gameplay element of this set and the two Starter Decks. Multicolor cards will expand gameplay strategies like never before, bringing newfound excitement to players!
Two Box Toppers
In addition to six parallel tamer cards, two previously released pre-release event cards will be included as an English version exclusive box topper! This gives a chance to players to obtain these cards after stores have finished distributing them at their events.
Contents:
1 Sealed Booster Box
  ‣ 24 Booster Packs
---