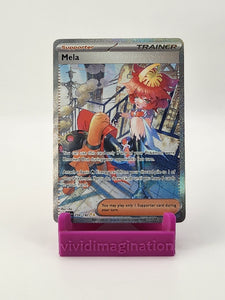 Vivid Imagination Cards and Collectibles
Mela 254/182
Regular price
$24.99
$0.00
Unit price
per
This card is considered NM.
Card Type / HP / Stage: 

Supporter / /

Card Text:You can use this card only if any of your Pokémon were Knocked Out during your opponent's last turn.
Attach a Basic [R] Energy card from your discard pile to 1 of your Pokémon. If you do, draw cards until you have 6 cards in your hand.
You may play only 1 Supporter card during your turn.
---